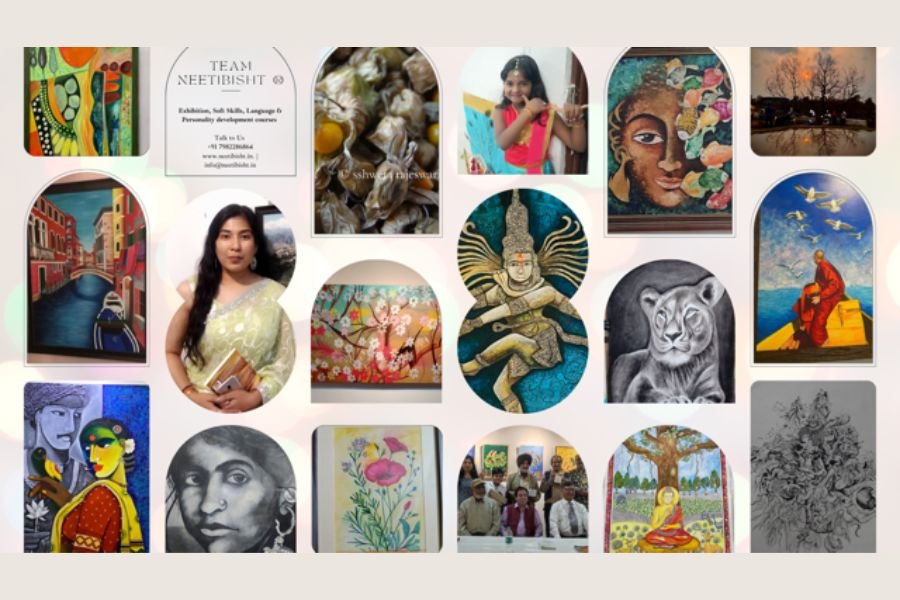 New Delhi (India), February 27: Everyone is born with a unique talent, and it takes the right eye to recognize and ethically nurture it.
Team NeetiBisht® under the leadership of a multitalented Indian Miss. Neeti Bisht took the initiative to uplift creative minds across the globe. The art of nurturing someone's talent is indeed challenging. A variety of courses and activities are involved, including but not limited to soft skills, language, and personality development courses and exhibitions merged with unique themes and social issues. Creative minds are taught to excel in the real world in ethical ways by giving them the opportunity to meet and learn from industry and non-industry experts, case studies etc.
The innovative team has done several offline and online activities since 2020, which got International coverage and appreciation. To uplift creative minds -female, The ART QUEEN title was introduced in the year 2020, and with the huge demand from the male fraternity, the ART KING title got introduced in the year 2022. The creative minds felt celebrated while receiving the prestigious title for their contribution to society.
Feb 24-26, 2023, is reserved for a Group Art Exhibition with the theme –"Crime Vs Humanity' and a cause – "Building Moral Values". The magnificent creations in various categories – Painting, Photography, Sculpture, Literature using varied mediums were displayed at Artizen Art Gallery, Plot 1-2, BahadurShah, Zafar Marg, New Delhi-110002.
ART QUEEN 2020 was covered in The Asian Age, Art Affairs, etc. ART QUEEN 2021 was covered in Art Affairs, International Coaching News (UK-based magazine), Sanatim (Turkey-based magazine), etc. ART QUEEN 2022 was also covered in International and National newspapers.
"Venice-City of Love" by Ms. Anju Ahlawat, "Nritta" by Ms Jyoti, Tewari, "Portrait" by Ms. Suman, "Untitled" by Ms. Kanishka and Ms. Aadya Tyagi, "Rajashaahi" by Sshweta Rajeshwari, "Shubhaaranbh"," Divine Love-1", "Divine Love-2" by Mrs. Roopa Jain, "Circle of Life" by Mrs. Chakor Gupta, "Towards Salvation", "Vrindavan" by Dr. Kusum Ansal, "Bloomingdale-Series 1 and 2", "Made for Each Other- Series 1 and 2 by Mrs. Shruti Arora, "Turquoise River", "Cow Love" by Ms. Rita, "Untitled" by Mrs. Shuchi Aggarwal, "Poem" by Mrs. Swati Sharma, "Untitled"-Photography by Mr. Kartik Sharma, "Emotions" by Ms. Leona Jain, "Untitled" by Mrs. Minarva Sahoo, "Birds" By Mrs. Chetna, "Curiosite" by Mr. Thierry, Saffet Tuncel, Francisco "Golden Feathers", "Utopian", "Bloom", "Cosmic Aum", "Radical", "Adiyogi" by Ms. Isha Singhal, "Arena" by Mr. Jaspreet Singh, "On the Battlefield-The Aftermath" by Mr. Vivek Singh's "Untitled" by Mr. Francisco Perez Alonso was on display. Mrs. Urvashi Verma and Mr. Ram Onkar from the Art Background was the Hon'ble Guest for the Opening Ceremony.
Discussions with the experts from industry and non-industry experts were initiated to get to the root cause of the increasing crime, especially against women and their preventive measures. The indulgence in creative activities is recommended by the Experts for healing purposes.
We thank Mr. Sushil Kr Pugalia for buying the beautiful creation of young talent. We encourage everyone to support the alive creative fraternity by procuring their beautiful handmade creations. It Makes a lot of difference in a creative person's life. Your contribution to supporting social causes and the artist is an inspiration for influential people in Society.
The team is proactive in conducting TNA (Training Needs Analysis) for both Government and Private Sector, especially in the Engineering and IT industries, and recommend everyone in these sectors enroll for language, soft skills and personality development courses. The learning will benefit the professionals in cultivating a humanitarian attitude, adopting a healthy lifestyle, becoming a global citizen, problem solving skills, time-management skills, anger management, a brief introduction to YOGA etc.
Miss. Neeti Bisht is a multilingual and multitalented Indian. She was invited as a "Guest of Honor" twice by the AR Foundation. She penned down an e-poem book titled "Delhi Born" and co-authored an anthology titled as "The Epiphany of Words". She won the Runners Up title Delhi in Empress universe-2018.
She lives a spiritual, vegan and non-alcoholic lifestyle. She lives with her parents in New Delhi, India. She is a kind-hearted soul and had been a consistent promoter of women's empowerment. She contributed to UNICEF for girl education program.
The innovative team operates from Monday – Friday (11:00 AM-05:00 PM IST) from New Delhi, India and can be reached through any of the channels like Linkedin, Instagram, Telegram, Whats App etc.
We are flexible with the course timings and reasonable in the cost criteria. The next exhibition is lined up in the month of May and encourages participation from creative minds from all walks of life. Let us help you in adding value to your life.
Linkedin – https://www.linkedin.com/in/neetibisht
Instagram – @teamneetibisht
Telegram – https://t.me/neetibisht
Website – https://www.neetibisht.in
If you have any objection to this press release content, kindly contact pr.error.rectification[at]gmail.com to notify us. We will respond and rectify the situation in the next 24 hours.