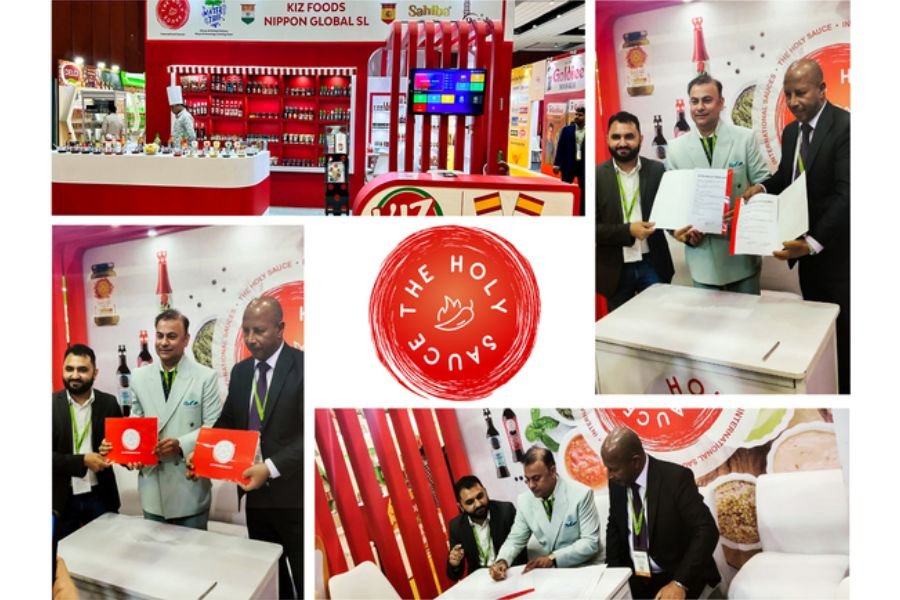 The NIPPON KIZ and ROMA TRADING GROUP a unit of Al-Alameya Group of Companies announced a Collaboration worth USD 2 Million
New Delhi (India), February 13: The Nippon KIZ and ROMA TRADING GROUP, while exhibiting at the Indus Food 2023, announced that they have entered into a definitive agreement for a long-term strategic partnership worth USD 2 million annually that is expected to accelerate growth for both the companies in the dynamic, fast-paced food industry. The agreement was signed in the presence of senior dignitaries from the Trade Promotion Council of India, namely Sandip Das, Dy. Director General; Deepak Vohra, Director; and Bhanu Vashishtha, Joint Director, who made a significant contribution to the venture.
Pursuant to the terms of the transaction agreement, NIPPON KIZ has appointed ROMA TRADING GROUP as its preferred distributor for the ever-expanding market in the Kingdom of Saudi Arabia. The distributor agrees to purchase the goods from the supplier for a minimum of USD 2000000 ( TWO MILLION US DOLLAR) per year for THE HOLY SAUCE products. The collaboration is to expand the distribution of the exclusive range and become Nippon KIZ's preferred distribution partner for Nippon Kiz Brands in Saudi Arabia, this time specifically targeting The Holy Sauce.
About The Holy Sauce: The sauces are made with only the freshest and highest-quality ingredients, ensuring that every bite is packed with flavor. The extensive selection includes classic favorites like BBQ and Mint, as well as bold and exciting options in Sriracha and various flavors.
They understand that not everyone has the same taste preferences, which is why the company offers a variety of heat levels, from mild to extra spicy. The sauces are also gluten-free and vegan-friendly, making them accessible to a wider range of customers.
The packaging is sleek and modern, making it easy to spot the wide range of sauces on store shelves. They are excited to bring the sauces to grocery stores and online retailers nationwide so that everyone can enjoy a taste of the sauces. With sauces so flavorful, they aspire to be a recognized name for customers living in more than 150 countries. They have already collaborated with many distribution channel giants in more than 40 countries, which has helped them reach millions of customers in a short span of 8 months after successfully launching the full range of sauces.
"The Nippon KIZ continues to identify innovative approaches to partnerships that enable us to stay at the forefront of consumer trends in the food industry, and we are probably one of the largest companies producing a multitudinous range of sauces under one roof." Our products are made with 100% farm-grown produce and do not compromise authenticity. "We will live up to our consumers' expectations and offer them the taste that they have grown up consuming in their local eateries and homes," said Amit Sawhney, Director of Nippon KIZ.
Zardar Badami, Director of Nippon KIZ, further added, "We are excited to evolve our collaboration, as Roma Trading Group is a market leader, and to benefit from each company's respective brand marketing, production, and distribution strengths." This collaboration is expected to deliver sustainable value to both entities, and we also believe our customer delight mission and our quality will always be the key differentiators in the market. "Our business will be bolstered by the distributor and will expand in many geographies."
Roma Group is the leading wholesaler of an exquisite range of food products like frozen meat, poultry, seafood, pulses, dry fruits, and selected canned foods, serving hundreds of thousands across the Kingdom of Saudi Arabia (KSA) through its channel partners. They have distribution centres in major cities throughout Saudi Arabia, as well as numerous branches.
"We work as the best wholesale point for Bakalas, Supermarkets, Hypermarkets, and the HORECA industry, and we aim to increase the horizon with a new product line." Our majority of the population comprises youth with the age group ranging 25-35 with a taste of sauces & chutneys made us believe that this never seen exclusive range of sauces will be a hit in the market. Although the brand is new, focusing on creating visibility will ensure customer acquisition at a much faster pace than expected. "We aim to procure the sauce range for 2 million USD in the first year, but we are confident to increase the order year on year, targeting 5 million per year soon," said Hatem Saleh Yaseen, CEO of Roma Trading Group.
"The journey started the day our CEO had the first glimpse of the holy sauce products and asked the team to connect with the makers. The brand looked promising, particularly the packaging, which was outstanding. They have packaging available in all sizes and jar types (pet and glass) to suit the comfort and needs of various market segments. "Our exposure to the wholesale and catering segments coupled with KIZ NIPPON's strength in the retail segment will surely create a win-win situation for all stakeholders," said Syed Rizwan Hussain, General Manager of Roma Trading Group.
For more information, please visit: https://theholysauce.com/ 
If you have any objection to this press release content, kindly contact pr.error.rectification[at]gmail.com to notify us. We will respond and rectify the situation in the next 24 hours.