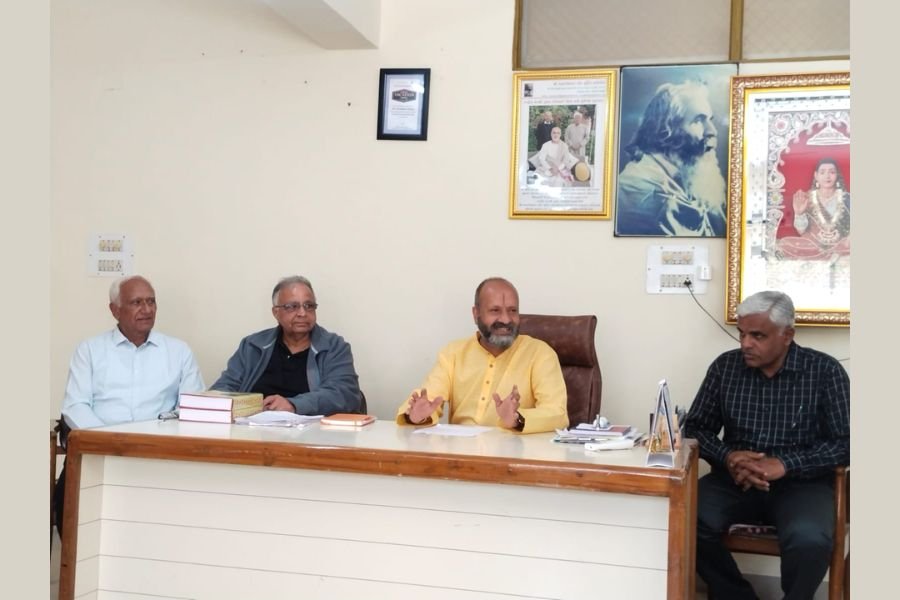 Agro and Trade fairs (14th to 17th March), De-addiction camps, superstition prevention camps, and medical and blood donation camps will be organized daily along with cultural programs during the Saptah.
A Summit will be held for the development of Porbandar
Launch of the first digital book of Maher  Community – 'MaherSamajni Vikasgatha'
New Delhi (India), February 7: Maher Supreme Council, an international body of the Maher Community, has organized a grand Shreemad  Bhagwat Saptah by Pujya Bhaishree Rameshbhai Oza in March 2023 at Chaupati Cricket Mela Ground, Porbandar. During this Bhagwat Saptah which is to be held from March 13 to 19, along with the Agro fair, Trade fair, and other programs a summit for the development of Porbandar has also been organized, in which the leaders of all castes and organizations will be present.
Council President Vimaljibhai Odedara, Vice president Sajanbhai Odedara, Karabhai Keshavala of Keshav village,  Bhimabhai Modhwadia from America  and Mehulbhai Thanki, etc dignitaries gave detailed information about the program which is  to be held from March 12 to 19 and said that along with Shrimad Bhagwat Saptah, the social, educational, economic, spiritual, health-related  and Various programs will be held for betterment  of Porbandar
Bhimabhai Modhwadia, America, and the President of the International Maher Supreme Council Mr. Vimaljibhai Odedara are the main donors of the Bhagwat Saptah.  Mr. Odedara said that exercise is necessary for the health of the body, just as religion is necessary for peace of mind.
A grand procession of Pothi will be held on March 12, the day before the Bhagwat Saptah. Thousands of citizens will join this procession. People of the Maher community will join in their traditional dress, Dandiya Raas including Maher Maniara will also be commenced at Chaupati.
Mr. Vimaljibhai Odedara, president of the International Maher  Council, gave further information and said, "In this program, not only religious but also various programs for the upliftment of economic,  educational, spiritual, social front of the entire society of Porbandar will be held in this Utsav. Furthermore, there will be an open discussion for the organization and development of the entire society. The book ' MaherSamajni Vikasgatha' will be launched during the Saptah. This is the first digital book of Maher Samaj. It has been prepared with the purpose that people living in the country and abroad can read this book on all devices like mobiles, and computers at the touch of a finger. Apart from this, Agro and Trade fairs, de-addiction and superstition prevention, medical and blood donation camps, and daily cultural programs will be organized. Approximately 35,000 to 50,000 people will join these programs every day."
Giving information about the Agro and Trade fair, Mr. Vimaljibhai said, "From March 14 to March 17, the Agro and Trade fair will be held from 11 am to 3 pm, and, after the fair, the Katha will take place and by end of the Katha the fair will go on again from 7 to 9 pm. In which various commodities ranging from agricultural implements will get a big market at the local level."
A summit will also be organized for the development of Porbandar city and district. All Community leaders, officials, institutions, industrialists, traders, social leaders, educational leaders, leaders of all castes, etc. will attend the summit and discuss the development of Porbandar.
Lokdayara is also organised after the Mahaprasadi every day during the Bhagwat Saptah. Famous artists like Bhikhudan Gadhvi, Devraj Gadhvi, and Kirtidan Gadhvi will keep the audience engaged with the culture of Dayara.
If you have any objection to this press release content, kindly contact pr.error.rectification[at]gmail.com to notify us. We will respond and rectify the situation in the next 24 hours.