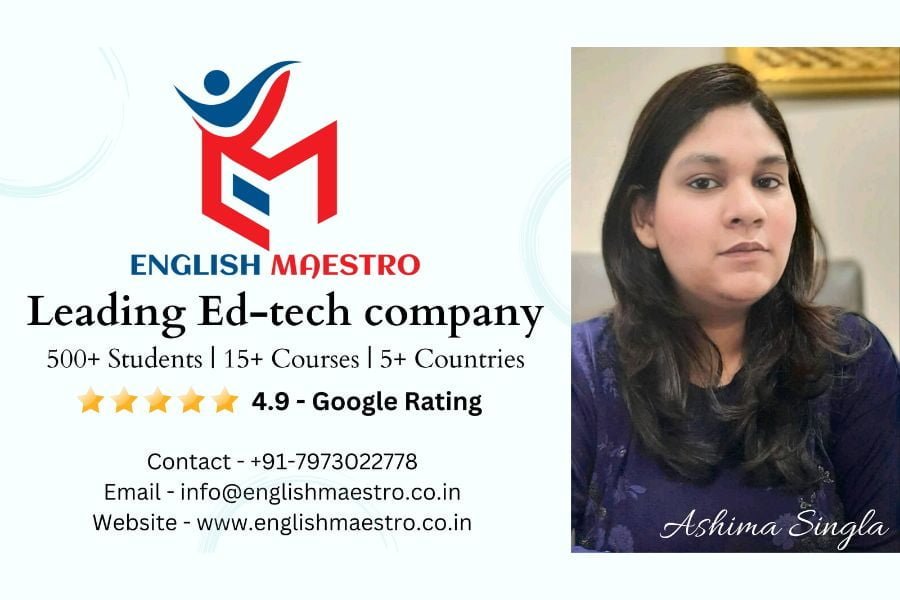 New Delhi (India), February 1: Teaching is a noble job; this is the only profession that makes other professions possible. And it is also said that teaching is the best way to learn and remember. Teaching can be challenging, but doing it with all your heart and passion is the most straightforward job for the doer.
One such EdTech Institute was conceived because its founder discovered she was a passionate learner and a more passionate teacher. After that, she has never looked back as the journey of the English Maestro started there. It prepares you for the outside world and helps you achieve your dreams and ambitions. Ashima was once a Civil Service aspirant; she prepared for the services for almost three years and then realized that she could reach more heights and discover potential while teaching. While teaching, she enjoyed it and loved it more than anything else, like administrative jobs, desk jobs, etc. When the realization hit her, she dropped her preparation and started working on something that she loved by heart. Now she is a certified trainer, a public speaker, and a personality development coach.
Realizing how deeply it can impact society, she has helped more than 500 students achieve their dreams, and the number is still growing. Although she did start her journey in 2014 as a freelancer, alongside her preparation, she taught students in the year 2020; she stepped out of the box and started teaching professionally. Initially, she worked with a few companies where she got insights and experience in the Education industry and then in the year 2021, English Maestro was officially incepted.
English Maestro was built and brought into the market to promote soft skills and help people gain confidence in communication. It began with the mission to help as many students and individuals speak English, and for this, they offer various courses under one roof. The courses here are designed and delivered by professionals and experts with years of experience in this field.
The EdTech platform offers more than 15 courses for different purposes, such as English Language Course that offers Spoken English, English Proficiency, and Grammar Courses. Then there are visa courses, visa courses with the current time are becoming essential because of their demand and importance; Ashima says, "Many visa applications are rejected due to the lack of proficiency in English; we make sure this doesn't happen, so we have made professional courses." The professional courses include IELTS, OET, PTE, and UKVI. These courses are designed in a very comprehensive manner that makes them unique and different from all the rest in the market.
Helping people build careers and building confidence, Ashima has also developed courses for public speaking, personality development, interview, email writing and etiquette, formal education, and the list goes on and on. They provide all the educational content at a very affordable price and teach practically and interestingly, ensuring that students get every grasp of it. The course includes one-on-one sessions, live classes, doubt sessions, and expert study material. They also conduct regular tests with assignments and assessments that help retain whatever has been taught and studied.
Over time, they have built a base of over a thousand satisfied students who are doing well today. A few of them shares their experience and writes,
"My experience with English Maestro was just mind-blowing. After one month, I saw a great improvement in myself. My confidence level also boosts. Especially Mam, your way of teaching is the best. Also, you give personal attention to every student."
Another student writes,
"I think that Miss. Ashima has helped me a lot, particularly in English speaking. Through her lessons and her best teaching methodology, my speaking has improved. She gave different activities, which made the lesson interesting and easy for me to understand the problems well. She encouraged me on every step and made me confident through her lessons. She is indeed a good teacher and a good guide too."
Ashima and her staff are well-trained and attend regular workshops and training to ensure they are updated with the modern world. Ashima holds over eight years of experience in the field and has TEFL Certification. She always believes in Working and Never Giving Up, which she also delivers to her students. She says, "Trying out and failing is just a new lesson. So, start upskilling yourself rather than just wasting time."
She has seen various ups and down in her journey but never gave up. "Everybody has to face certain difficulties when running a business, and being a woman becomes a bit more. There are lots of ups and downs every day in being an entrepreneur. Sometimes it's on a personal level, and other times it's professional, but keep working, do not give up," says Ashima.
To know more about English Maestro, visit;
Website – www.englishmaestro.co.in
If you have any objection to this press release content, kindly contact pr.error.rectification[at]gmail.com to notify us. We will respond and rectify the situation in the next 24 hours.