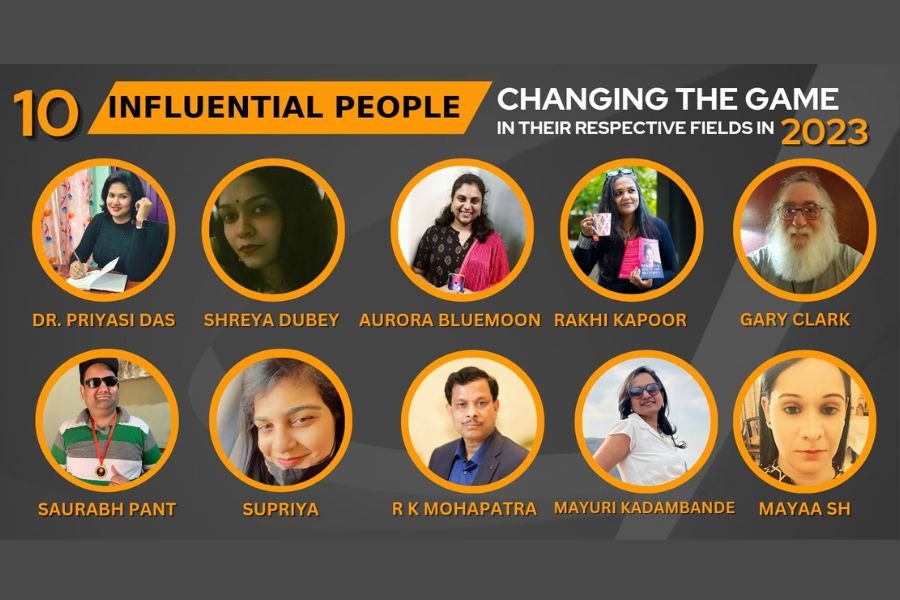 10 Influential People Changing The Game In Their Respective Fields In 2023
New Delhi (India), January 30: We the people of India certainly believe that India can disrupt the global content landscape with indigenous stories by staying true to our culture and realities. Here is a list of 10 Influential people changing the game in their respective fields in 2023. Each one of them is someone people from their field look up to, respect and trust to guide them toward their desired results.
10 Influential People Changing The Game In Their Respective Fields In 2023 are:
Dr. Priyasi Das
Shreya Dubey
Aurora Bluemoon
Rakhi Kapoor
Gary Clark
Saurabh Pant
Supriya
R K Mohapatra
Mayuri Kadambande
Mayaa SH
Dr. Priyasi Das
Dr. Priyasi Das belongs to the City of Joy Kolkata. She is an Award-Winning – Best-Selling Author, Engineer, Doctorate in Literature, and National, World, and Global Record Holder via India Book of Records, Vajra World Records, Global Records & Research Foundation, Grace Ladies Global Book of Records & many others. She is also a Guinness World Record mass attempt Record Holder. She has Authored 9 Books. She is the founder of Priya's Wisdom Publication (PWP), Iconic Brand Network (IBN) & The Inspiring Women Community (TIWC) which gives aspiring candidates a good platform to get recognized for their talent, hard work, and dedication. She is a Professional Certified Expert in Literature from the GLOBAL PROFESSIONAL EXPERT FORUM of Professional Skill Development Hub Singapore. She is also a National Award Winner of the Swami Vivekananda Excellence Award. She has received more than 50+ International & National Awards for her impeccable literary projects. She has interacted with the Honorable Prime Minister of India – Shri. Narendra Modi virtually for the initial discussion toward Independent India under Azadi ka Amrit Mahotsav. She is the first person to write a reality-based book on COVID-19 titled "PHASES OF COVID-19" which is an Amazon Bestseller and multiple record-holding books. Her recently published book "DENSIS" is a unique informative book that is based on the author's real-life experience and portrays the reality of two deadly medical conditions (DENGUE & SEPSIS). Surviving from two back-to-back deadly diseases the author has dedicated the book to the medical survivors and written the book to create healthcare awareness.
Shreya Dubey
Shreya Dubey is a poet, writer, podcaster, storyteller, speaker, live reader & interviewer, host, content creator, and author of the bestseller book "ALL THE FLOWERS SHE HELD", available on Amazon, Flipkart & notionpress.com. Coauthor of 35+ best-seller anthologies. She has successfully released her podcasts on Spotify, Gaana, Jio music & other platforms where podcasts with titles "Don't give up on hearts" & "Meri kavitaaein, chai aur tum" were great hits. In her debut book, she spoke about the emotions of relationships. She is currently residing in Pune & working on content creation where she guides on how to deal with emotions & provides insights on the sensitivity of emotions of the heart with her reels. With her monthly podcast series with an Instagram firm, she's now helping listeners how to deal with mental issues, emotions & relationships. Received many awards in the field of literature, writing, live reading & as a speaker and has been nominated for numerous awards which include Awardee of top 10 aspiring writers, best book reviewer, top 10 literary awardees, queen awardee, pride of India awardee, youth icon in literature and winner of best live reader & best book reviewer. Featured in Google news, Menafn, zee5, Jio news, daily hunt, Indian saga, fox interviewer, team punjabmetro, the daily beat & ed times.
Her book made it to the top 5 books to be read in 2022 by Cherry book awards.
Her connect
Instagram- @shreyadubey10
Aurora Bluemoon
Aurora Bluemoon is a pen name inspired by the magnificence of the southern lights, Aurora Australis, and the 13th full moon of the phrase "Once in a Blue Moon," where all miracles happen, signifying the rarity of the natural phenomena.
In real life, she plays her role as an entrepreneur with a master's degree in English literature. As an innovative writer, her vivid thoughts of fantasy led me to the writers' world by the year 2021.
She has strategized a unique way of captivating readers in the fantasy world that she has created. "I've contributed my works to various literary genres like poetry, short stories, book reviews, micro tales, and articles. I have written four e-novels available in forty online reading apps and traditionally published two novellas available in Amazon, Kindle, and Google Books," she says.
The New Year 2023 proliferated her with a new title as founder and editor of two digital quarterly magazines, e-Chuvadi Magazine, and Codextra Magazine. e-Chuvadi Magazine is a literary magazine with the unique concept of focusing mainly on South Indian Languages encompassing all literary genres. Codextra Magazine is a journal platform focusing on promoting the best e-novels of proficient authors in online reading apps to connect with their readers.
"I won a few winner titles for my poetry from reputed organizations such as Flairs and Glairs publication, Am Power, The Momma Clan, Unicorn Magazine, and Cherry Book Awards. I'm awarded as Modern Literary Star Award from Cherry Book Awards with partners, Digital Golgappa and Indian Stories.Live."
Instagram: @aurora.bluemoon
Facebook: @author aurora blumoon
Email id: aurorabluemoon.writer@gmail.com
Rakhi Kapoor
Meet Rakhi Kapoor, author of twenty-five books, Prenatal counselor, and Entrepreneur
Rakhi Kapoor is the author of 25 impactful books with four Amazon India best sellers.
Rakhi writes on complicated issues like mental health, relationships, self-help, pregnancy, mood swings, childbirth, work-life balance, post-natal depression, and infertility. Her books are backed by research, real-life case studies, activities, and checklists, dealt with by the author.
Rakhi's twenty-fifth book Now You Breathe (Overcoming Toxic relationships and Abuse) has been nominated for many prestigious awards, awaiting the results in 2023.
Rakhi has been awarded the Best Author of the Year 2022 at the National Achiever's Awards in New Delhi at the Constitution Club of India.
She has received the Exceptional Women of Excellence Award from Yuukke, a global ecosystem for women entrepreneurs.
Rakhi is a pioneer in the concept of prenatal counseling in India with over two decades of experience working with young women, moms, and couples.
Her book Expecting Daddy Delivers for expecting Indian men which have been translated into Hindi as Behtar Pati Behatareen Pita.
Mums mental Health and Milestones is a groundbreaking book written by Rakhi dedicated to the emotional and mental health of young women and mothers. Her book Deliver with Delight topped the Amazon India charts making pregnancy and childbirth a matter of pleasure instead of stress.
She is an avid trekker. She keeps her head in between the clouds and her laptop exploring ideas that she translates into powerful books.
Gary Clark
Gary Clark is a USA-based philanthropist, poet, and entrepreneur. He is known to connect animals with the latest trending topics in his poems. He loves writing and is currently working on a couple of upcoming untitled novellas. He shared 10 problems faced by Indian Youth after his extensive research.
Saurabh Pant
Saurabh Pant is a visually impaired Indian author who was born on the 4th of April 1994 in the beautiful hill station of Nainital in Uttarakhand.
After having pneumonia at age of 3 and accepting the loss of vision at age 5, he came in touch with Braille at age of 12 and had primary education in NIEPVD in Dehradun where he also learned screen reader access for devices.
He returned back to inclusion after schooling and graduated from Kirori mal college in DU where he was a modest student of his time.
His journey into writing had started to grow in school, but with technical help, he published his 1st work in Sept 2014, and from there onwards he never looked back.
Today he is the author of more than 120 works and has won 9 international awards but he feels more connected with his visually impaired friends and likes to help in whatever way it is possible so he feels gratified to all for this.
In 2022, he was supported hugely by Digital Golgappa and Cosmoclan platforms and came to be known by the larger Indian spectrum for which he is thankful, and would continue to grow more in 2023 as an author.
Supriya
Supriya from Chhattisgarh INDIA completed graduation in the biotechnology Research field with advanced training. She is passionate about dancing, listening to music, writing her thoughts, Reading, traveling, playing Casio a little bit, drawing and making creative things, dressing, etc. she is fond of Reading because it makes her feel like traveling without moving her feet. She is a girl who believes that miracles do happen because of hard work and the results that came after, is the best gift of her life.
She had participated in 20+anthologies as a co-author with different themes, genres, and concepts some are mentioned below-
1. Our inspiration
2. Impossible? I'm possible
3. Unicorn
4. Rainbow
5. Silent love
6. Stolen heart
7. Roller coasters of Emotions
8. Tribute to kk
9. Still with you
10. Dream
11. Robust overlive
12. Tarpan
13. Wishtling wind
14. Every word matters
15. Smile
16. Dosti
17. From impossible to possible
18. Penned aspirants
19. The porphyrous ocean
20. Whisper of the heart
21. Because its always you
till now Compiled 4 anthologies- "zest for life" "Raindrops on the pain" "Imaginating world" and "Serendipity". Her poetries got featured in "Namya Magazine September Edition 2022" "Eagle Eye Magazine October Edition 2022" and "Namya Magazine January Edition 2023".
She won awards- one for "India's top 20 prestigious artists 2022" by Namya magazine and Namya foundation another award for "The Leading Attainers Award 2022" organized by JEC publication and awarded "Sri Aurobindo Indian literary award 2022" by cherry books award.
She has Insta Id -@sup.riya1303 where she posts her thoughts, ballads, and quotes that might help to come out from your hard times.
R K Mohapatra
R. K. Mohapatra is a Cost and Management Accountant, Financial Expert, Blogger, Speaker, Writer, Social Activist, and Award-winning bestselling Author; he has vast 32 years of experience in the field of Finance and Accounts in India & abroad. Mohapatra is well-known for his work in cash and wealth management, portfolio and risk analysis, micro and personal financial planning, and estate & retirement planning for individuals.
Mohapatra has authored four books on non-fiction business self-help on the topic of Finance, Investment, Retirement Planning, and Mutual Funds.
R K Mohapatra is the cover star of "SELFESTA," "SPANDORA" & "GLORIOUS INDIA" Magazines and a multitalented personality best-selling Author who has been interviewed in many media houses.
Mohapatra's honest and striking portrayals of the corporate world earned him numerous national & international awards: the 18th Edition Asia Pacific HRM Congress -Exemplary leader award 2019, the 19th Edition Asian Leadership – Hall of Fame award 2021, Indian Glory "Best Writer of the year," "Criticspace Best Indian Author," "Inspiring Indian 2022," "Mahadevi Verma Sahitya Shiromani" and "Bhartiya Sahitya Ratna- Best Author Award" in recognition of his immense contribution to literature across talent domains, striving for excellence in genres across the Nation and beyond.
Mayuri Kadambande
Mayuri Kadambande is the Director at WakeUpUrbanNaari foundation and the author of "Art of Overcoming Rejection".
Mayuri is on a mission to Empower 1 lakh women to become great leaders with the help of life-changing tools and solutions. She is a transformational leadership and mindset Mentor.
She is also the author of the bestselling book "Art of overcoming rejection" for which she has been recognized as a must-read book of 2022 by wisdom publications & Aspiring Achievers.
Mayuri has been applauded with multiple awards like the Bankim Chandra Chatterjee Kala saman Ph.D. convocation award as a literary personality, and Sahityakosh Awardee for 2022.
She has also received the International Women's Laureate Award in March 2022 for her significant contribution to women in society and excellence in the respective field of Honour. SHEROES recognized her impeccable work and journey and awarded her NAVYA NAARI SAMMAN on women's day this year.
Mayuri has successfully trained 1000+ people helping them achieve their leadership goals.
She believes every woman has the right to live an independent & respectful life by developing the right mindset one can overcome challenges in their life be it discrimination of color, financial situation, racism, relationships with the family, Workplace politics, sexual harassment, Abuse, and many more.
In 10+ years of her work experience in different leadership roles, she has experienced challenges that women face while balancing their personal and professional lives, which results in them falling into stress, anger, Anxiety, frustration, and depression at times even affecting their health in long run.
Mayuri extends her hand to women who are aspiring to make difference in their lives through her books, webinars, and coaching sessions.
She also talks about leadership and giving equal opportunities to people.
Why wellness of mental health & mindfulness is necessary
The slogan of WakeUpUrbanNaari is
"Living Respectful life is basic right of every woman "
Follow Mayuri on:
Instagram: mayuri_kadambande
FB: mkadambande25
Mayaa SH
Mayaa SH also known as Mayaa Tai, Mayaa Di, Mayaa Audio SH, Pushpa 'The Fire', Padma Of The East, lady Robin Hood and Lady Gandhi is a known name in Contemporary Literature. She is a Multi-National Award Winner, a six times World Record Holder, An Artist, a Podcaster, a Record Chart Topping International Fastest Anthology Co-Authoress, and has been chosen as number 1 of The Modern Literary Stars Of India, in 2022 by Cherry Book Awards for making a valuable contribution to Contemporary Indian Literature. She has Won In Memorable Performance in the category termed 'Other than English write-ups " for her appreciation of hard work, creativity, and dedication in Grand Christmas Competition 2.0 which has a world record event of the largest creative event hosted online with more than 1000 participants. Mayaa SH is a Women Empowerment Culturist and a gender equality exponent to position and contextualize her work within the 2030 Agenda for Sustainable Development.
She has depicted gender inclusivity and equality through her certifications from the United Nations and powerful writings on Feminism, Gender Equality, and Transforming Vision into Action: Transmogrification on Transgender Community and Mental Health Awareness Topics. Her work depicts the identity, economic and social freedom of many. She has co-authored more than a hundred thirty-plus anthologies with five solo books and has been aligned with more than 70 publication houses. She has been featured in several magazines and women's orients like Tejaswi -The Imperishable on Women Power and Honour including a few international magazines. Her first poem "The Candle in the Wind" made her win an Award at the National Level. She navigates many women through stress by deploying talking as a medium to combat stress and fear.
If you have any objection to this press release content, kindly contact pr.error.rectification[at]gmail.com to notify us. We will respond and rectify the situation in the next 24 hours.